Since school is out, and I am allowing the kids to sleep in today, I can update my knitting blog on some of the things I have done since the orangesicle purse.
I did three more test knits. One for Ganiggle, a beautiful fingerless mitt with cute little leaves around the cuff. She called it Eden. She currently has her designs for sale on her
website
. I also tested several versions of Knitasaur's cable mitts. I tested her size (which fits my two oldest daughters), my size and a large size short version as the original version goes to the elbow.
I also tested for Zortified, who was making a free ravelry download. His mitts, ended up being knit with yarn he donated to the secret spring angel's project. We had a secret spring swap, a few months ago, where people signed up to receive and send either yarn and a pattern, or a pair of mitts knit by someone else. I sent and received mine, but there were a couple people who either had bad swap partners, or the postal system ate their packages. So it was secretly organized to make sure those who haven't received a package would. I said I would knit, someone else donated yarn. So I killed two birds with one stone, test knit, and used them to send to the lucky/unlucky recipient. I have sent, but haven't heard if she likes them or not.
I have also been dabbling into making project bags and stitch markers. Both were pretty well received on Karma yarn swap, so I felt encouraged to open an etsy store, as mentioned in the previous post. I have had my first sale, by the way. A set of stitch markers. Ironically it was purchased by someone who's pattern I was interested in purchasing, so it all worked out. :D
I am currently working on a chemo cap for my neighbor. Several people from the school, and from the preschool (where both of us have daughters attending) have organized a gift basket schedule for this summer, while she undergoes Chemo. I was just doing things as I had time, but I signed up to do a basket in August. I thought I would throw in some hats for her, and maybe a hat or two for her daughters (they won't be appreciated in the summer, but maybe in the winter). I tried one pattern for the hat with yarn I received from karma yarn swap, but didn't like how both went together. so I found another pattern, from another member of Karma Yarn swap, who designed it for herself when she went through chemo (and she's very young).
So now for pictures.
These are Eden, I made with cotton finger weight yarn, which made it not really stretchy enough for my fat hands, they fit Madeline though.
These are the first, smaller version, of the long braided mitts I tested.
I think Isabelle claimed them.
These are the ziggy zaggy ones I tested for zortified, that were sent to someone else.
these are the long braided in my size made from the ever popular Malabrigo yarn, which I received in my chunky monkey swap package.
These are the cabely short ones in large. I used artyyarn that I got from karma yarn swap, which didn't quite make it to finish both mitts, so I found another coordinating skein that I will do the top ribbing in, on both, I hope they look ok, when I finish.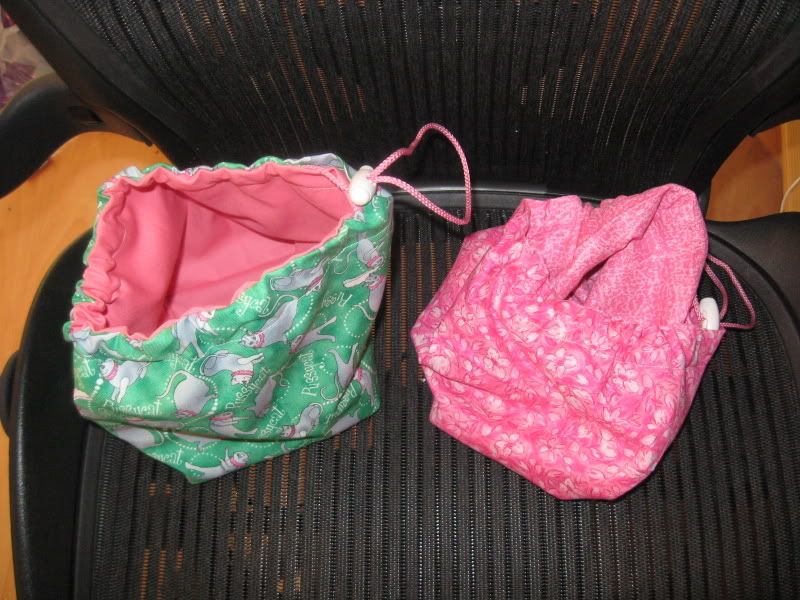 these were my very first two project bags. Reversible, with cord stops on nylon cord. My first couple bags were very desirable on Karma Yarn swap. I have made a few more since, and put them in my etsy store. I know they aren't as big or fancy as some that I have seen, but I am thinking of making them with a row counter instead of the cord stop in the future. I like the reversible quality, so probably won't make the type with a pocket. The caribeaner idea isn't bad though. If I could find some inexpensive ones.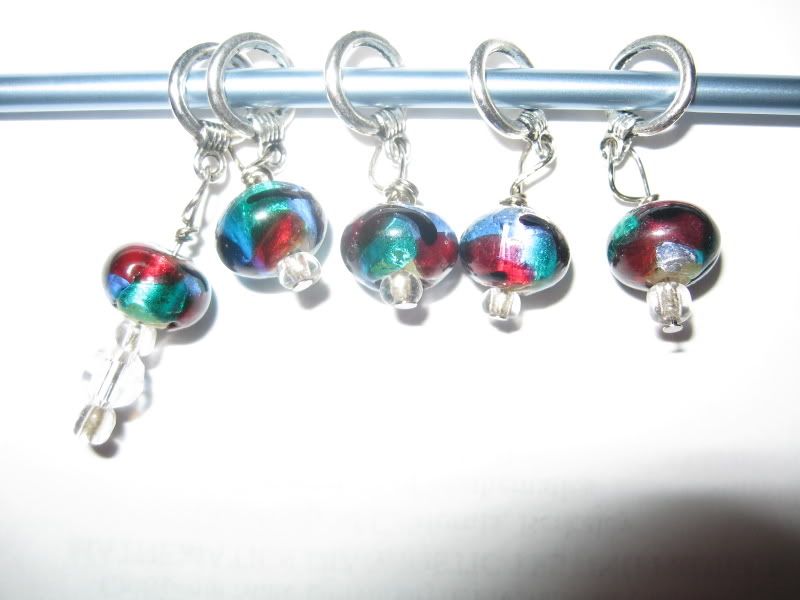 These are the latest stitch markers I made, but traded on karma yarn swap.
I think I am finally getting the technique down.
Sorry for the long picture heavy post, I hope to be better this summer.