I wanted to make a skull cap with a Norwegian snowflake. I had yarn from a sweater that my mother tried to make one time. So the need to use the yarn I had to make a hat I want resulted in this hat. :D If I ever figure out haw to graph and transfer over the snowflake, I may self publish the pattern.
Materials:
1 skein MC
1 skein CC
I used Heilo yarn that was reclaimed from an unfinished sweater.
Size US6 16' circular needles. Or whatever gets you the right size.
Cast on with MC 84 stitches knit in connect to knit in circle. Knit in US Moss stitch for 8 rounds. (K1P1 for two rows, then P1K1 for the next two rows) You can do whatever ribbing you like, but the moss stitch was a nice feminine touch for my mom.
Then knit one row plain, and then start on the pattern: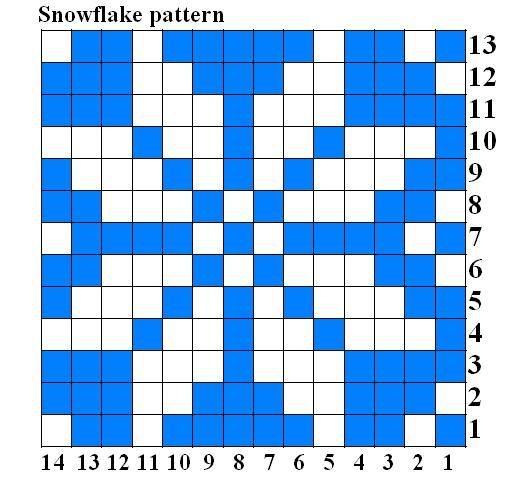 After the pattern knit flat for 32 rounds. Then place a marker at every 12 stitches. Decrease rows start now. K2tog before each marker, then knit a row 4 times, then k2tog before every marker each round until you have 12 stitches, cut string long enough, then thread through remaining stitches pull through the center, and finish off.